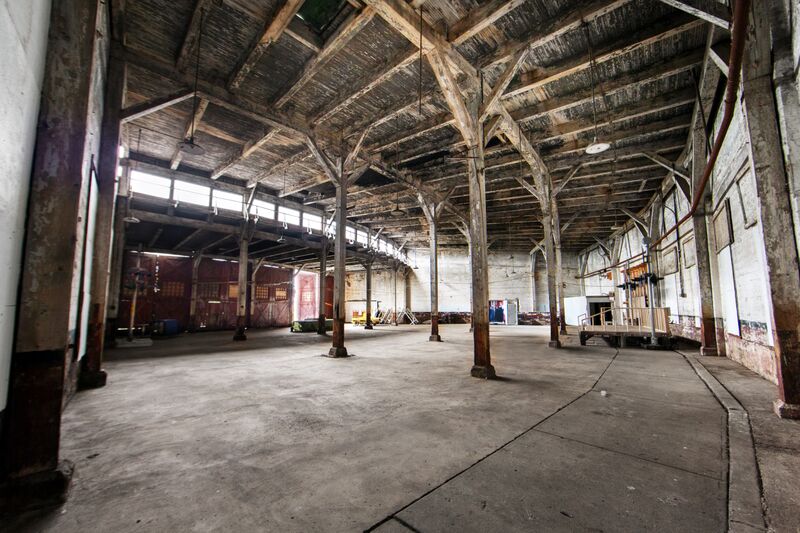 Organization: Hanna Roundhouse Society
Province: AB
City: Hanna
Website: www.hannaroundhouse.com
Facebook: https://www.facebook.com/Hanna-Roundhouse-Society-282280789338/
Twitter: https://twitter.com/HannaRoundhouse?cn=cHN0Zg%3D%3D&refsrc=email
About This Project Idea
The non-profit Hanna Roundhouse Society plans to adapt the 1913 Canadian Northern Railway Roundhouse from an Industrial building to a building to provide Community & Educational Events: We are going to repair the 9,500 ft 2 roof of the "Great Room" (5 engine bays). This will allow weddings, concerts, community gatherings, etc. to be held at the roundhouse not available elsewhere in Hanna. The transom was added in 1943 when the roof over the entire 10-90′ long engine bays, was raised approx. 6 ft, to add natural light from the east. Repairing this roof will provide a unique space for the community to rent a space among the Douglas Fir timbers which range from 18′ 3″ to 25′ 5″, supporting the roof. The double set of 17′ 4″ tall wooden engine doors for the 10 bays are over 4″ thick & provide a unique backdrop inside & outside the roundhouse. Many people come to get photographs in front of the wooden doors with a reddish color still present. The roof is blackened by coal steam, darker down the center where the smoke stack stops under the vents; bare stretches are visible outline areas of leakage. Repairing the roof of this section of the 19,000 ft2 roundhouse will allow the exposed wood to be protected against further water damage. In 2014, Macdonald & Lawrence Timber Framing Ltd. specialists, used ultra-sound to measure damage to the 1943 wooden roof, finding the roof was in "surprisingly good condition for a roof of its age"! However, the regular areas where water pools along edges of the roof & around the roof vents for each bay, indicated need for repair. When it rains outside the building, it also rains inside. When snow thaws, it leaks into the roundhouse. There are also some areas where there is no protection at all from the elements. Instead of providing umbrellas for guests at a roundhouse event, this roof needs repairing.
Community Impact
Repairs to the Great Room will allow the Hanna Roundhouse Society to have public community events without concerns of leaking, and most importantly, provide a water tight cover for the 1943 wooden ceiling. It is important to have a water tight roof to cover heritage items and protect them from damage. The "Full Steam Ahead" project will provide a large venue for community rental, and complete a repair outlined in our 2014 Building Assessment completed by the Hanna Roundhouse Society contractor. Larger events could be brought to Hanna for community enjoyment and allow us to proceed with further restoration. Social benefit: A larger rental space will allow events requiring large space to come to Hanna not available before. This may bring new events to Hanna. Economic benefit: Bringing more people to Hanna who will rent more hotel rooms, and B & B rooms. And, more support for the service industry in Hanna. Cultural benefit: Holding private and community events within a 1913 roundhouse will be like no other venue. It will also expose residents to a variety of events not able to offer previously and currently.
About this place
This roundhouse was build by Canadian Northern Railway in 1913 to support the settlement of Western Canada. People were brought to Alberta by the railway to settle and farm Western Canada. Farmers and immigrants were employed by the railway, constructing bridges and railroad tracks, and every position available with the railroad. As a result, money was earned by workers to help them and their families survive life on the prairie. Many of those workers stayed with the railroad for 30-50 years of service, and some workers lost their lives building or working for the railroad. The Town of Hanna was selected a Canadian Northern Railway Divisional Point, servicing steam engines from 1913 until CNR decommissioned the roundhouse in 1961 and doors were closed. Settling Western Canada was a very important "mission" for the railway and the Canadian government. Farmers were needed to grow food to support Eastern Canada, as well as themselves. The Railway provided employment for all, skilled and unskilled men, and as a result, people came West to find work and many small towns were created along the railway. When the Hanna Roundhouse was being built by CNoR, the only other roundhouse with a turntable, was Edmonton. When the roundhouse was no longer used by CNoR, it was occupied by Hanna Manufacturing Ltd., which built Agriculture equipment. The last occupant (1974- 1993) was a cattle action mart, Twin 4. I believe it is because these businesses occupied the roundhouse that it survived and is now one of the last CNoR roundhouses and with an 86′ 6″ turntable. Since the railway was a mode of transportation bringing people to settle Western Canada, it is a huge part of building Canada and settling Western Canada.
Why Give?
Money will be used to repair the 9,500 ft2 leaking roof over the Great Hall and is half the 19,000 ft2 roof of the 1913 Canadian Northern Railway Roundhouse.  The exterior roofing material is cracked through to the wooden ceiling allowing water to leak through the tar & felt roof material.  Over time much of the gravel has disappeared, with some places do not have any roof material protecting the wooden ceiling. 
The original roof material was felt, tar and gravel. Repairing the roof would involve removing the old roofing material & replacing it with equivalent material.  This material is currently being used on Heritage buildings nearby.   The material is thought to be 1943.
For the National Trust competition, roof repairs were split into Phase 1 (Engine Bays 1-5) and Phase 2 (Engine Bays 6-10).  Each phase consists of 9,500 ft2.  Should FULL STEAM AHEAD receive more funds than required to repair Phase 1, then the balance will be put towards Phase 2.
This railroad roundhouse was a CN Divisional site, in Hanna, Alberta.  It is one of the last of it's kind in Western Canada.  The history of this building is significant to the history of our Town, our surrounding communities, and Western Canada!  Without the railroad, much of Western Canada would not have been settled! 
Please support this small group of volunteers working to restore, renovate & adapt this beautiful Historic industrial building for community benefit, to bring tourists to Hanna & area, to create more entertainment for Hanna & area, and to honor the heritage significance to the settlement of Western Alberta.  Please Donate, Share & Vote.  Competition ends Monday July 17, 10 am Alberta time.  Thank you! 
Updates