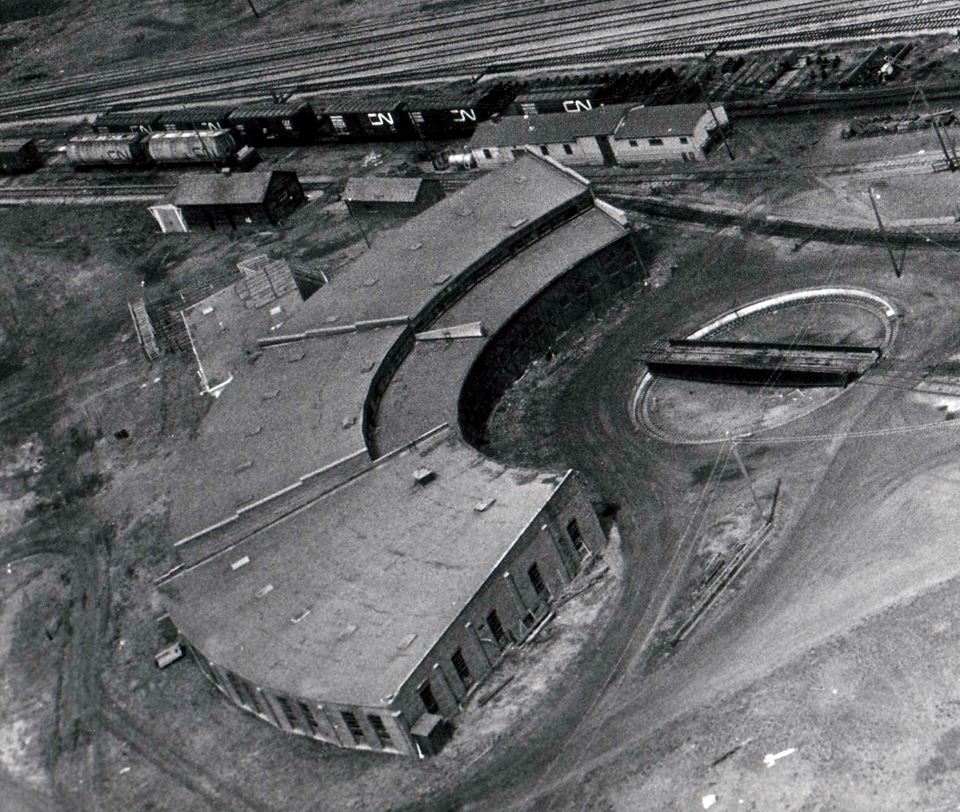 Organisation: Hanna Roundhouse Society
Site web: www.hannaroundhouse.com
Facebook: https://www.facebook.com/Hanna-Roundhouse-Society-282280789338/
Twitter: https://twitter.com/HannaRoundhouse
À propos de cette idée de projet
The gigantic new 10 stall roundhouse will also soon be ready to accommodate locomotives; the laborers are now engaged in tearing down the cribbing around the concrete walls. The new roundhouse when completed will be a most substantial affair being built entirely of reinforced concrete. " (Ref: Hanna Herald, "Work Progressing Rapidly at CNoR Yards", Sept. 19, 1913, Hanna Archives.)
In 1912, August 7, 1912, D.B. Hanna, VP of CNoR, purchases land from cattle ranchers James & Ed Parker, and recommends this site as the new Divisional Point for the CNoR. Mr. Hanna's decision to designate this new community a divisional point with the Canadian Northern Railway, his decision would have a huge impact on the local economy; this community would become one of the most recognized and important communities along the rail line between Saskatoon, Sk. & Calgary, Ab. (Ref: Hanna Herald, "How Hanna was Named", Hanna Archives.
The Town of Hanna did see growth. CNoR founded the community with hotels, restaurants & stores were built to meet the needs of the railroad workers; hospitals & schools soon followed to provide for families.
Blueprints for the 1913 CNoR roundhouse showed additions of 5 to a total of 25 locomotive bays; construction on the original 1913 roundhouse would start in 1919, adding another 5 locomotive bays, however, that would be the last.
To operate the 15-bay roundhouse, over 60 men were required over a 24-hr period to meet the railcar demand. At the peak of railway activity, railway workers & their families made up at least half of Hanna's population & workers were a close group. Railroading was a way of life.
As technology advanced, railroads would see many changes. Eventually, diesel locomotives replaced steam locomotives; less maintenance & more efficiencies. Soon, roundhouses became obsolete; Hanna's roundhouse closed in 1961. Men were laid off or transferred, families would move to other areas. And, the days of even diesel disappeared as the tracks were removed along the Goose Lake Line, with tracks in the former Hanna CN Railyard the last to be removed.
Few railroaders remain who worked out of the Hanna Roundhouse. When the HRS became owners of the 1913 CNoR Roundhouse in 2013, work could finally begin caring for this unique railroad building.
Over 25 years of neglect & vandalism had taken it's tole on the 1919 section of the roundhouse, but the original 10 bays were sound to pursue restoration, preservation & renovation.
The Hanna Roundhouse Society (HRS) is a non-profit society of a few dedicated volunteers, passionate about Hanna's railroad history & have accomplished many things in 4 years of ownership; hauling garbage, removing walls & ceilings added by the last occupant, a livestock auction, not original to the roundhouse, fundraising events, property maintenance, grant applications, etc. People have been generous helping in ways they could. Events have been held to bring people to the building to displace rumors about it's state. Sharing advances made & including public input, keeps interested parties involved.
Work done by the HRS board & volunteers, has been well worth it when we see the excitement of retired railroaders as they remember years of the past during an era deep ingrained in their soul, in a hub of activity. Hearing railroaders share memories "on the rail" or "at the shop" brings a smile to our faces. Friendships are renewed & new ones made.
One attendee's wife said "he was in the hospital at the beginning of the week & just got discharged to come to your event. He told the nurse, "I have to get out on Thursday; there is a CN reunion in Hanna on Friday I have to get to"!
Listening to the last machinist who worked in the Hanna Roundhouse, describe where the equipment stood, work done & even antics the men pulled on each other. Hearing that his great granddaughter brought him to Hanna to attend our event, from Port Alberni, this 87 year old gent described many details found nowhere else.
Attendees thanked the HRS repeatedly for saving & preserving this roundhouse! All made all our work WELL worthwhile! Once these men are gone, so are their stories. We have recorded many remember!
Our plan is to respect the originality & character. Working around the Douglas Fir timbers, preserving the metal pulley found in the Machine Shop ceiling, metal hardware, etc. The Machine Shop shall be an Interpretive Center, 5 Roundhouse bays a Great Hall (9,500 ft2) an open space for flexibility of large events like weddings, large gatherings, trade shows, etc. 2 bays, formerly a livestock auction ring be converted to a live theatre with graduated theatre seating, area for movies, presentations, dinner theatre, etc. 1 bay where a service pit is partially covered over, exposed for exhibit. And 2 bays for a Heritage Workshop for Heritage Certificate Courses offered at Hanna high school. Long term, the 1919 section rebuilt reflecting the original brick design.
The Hanna Roundhouse Society entered the $60,000 category of the National Trust "This Place Matters" crowdfunding initiative to help raise funds for the 19,000 ft2 roundhouse roof repairs. We have broken the entire repairs into stages as funds are raised. Once the Great Hall roof is repaired, we will move to the roof of the theatre, locomotive pit display area & Heritage Workshop for building heritage windows by heritage students interested in learning Heritage Carpentry within Hanna's school system.
Impact sur la communauté
Our town faces closure of a Coal Mine & Coal Fired Power Plant. This is about 200 jobs lost in a community of 2700. This coal industry is our major employer & we need another industry to support our community in rural Alberta.
The Hanna Roundhouse has been on the Heritage radar for years, Canadian Badlands Tourism has been interested in helping develop tourism with the roundhouse involved. Repairing the roundhouse roof will allow more events to be held at the 1913 Canadian Northern Railroad Roundhouse, one of the last roundhouses in Canada at it's original site & with an 86′ 6″ turntable outside the locomotive doors!
Operating this building will bring people to Hanna to see the building & to experience events held in it. It obscurely sits back of the west access into Hanna & people are now finding out about it.
Preserving this building & the history of Hanna's huge impact in railroad history will bring some pride to the community, excitement & a positive atmosphere. Closure of the mine & power plant have been in the media, bringing a sense of hopelessness & stress to local businesses. Residents have moved to find more secure jobs, leaving houses for sale & holes in our community.
Seeing more activity at the Hanna Roundhouse will bring a positive atmosphere to our community where residents can share in success & encouragement.
Events held at the roundhouse brought people together & all appear amazed with the building, inside & out. Railroaders & their families have come to see the Hanna roundhouse & in the process, they are sharing history with their family members. It brings the young & old together. The history shared & the items we are collecting & which have been donated, will be shared in the roundhouse from the railroad era. Research by the HRS of Hanna's railroad history is shared to remind residents of the importance Hanna had in Alberta & Western Canada, helping bring settlers west. Such information brings awareness of what our town once was & is an incredibly important part of Alberta & Western Canadian history.
The 1913 Canadian Northern Railway Roundhouse will bring social, economic & cultural benefits to our's & surrounding communities. Most towns in our municipality (Special Areas Board, Alberta), were built to support the railroad. Some of these towns have disappeared with the rail beds hidden under overgrown grass & an occasional glimpse timber to remind us.
Preserving Hanna's railroad heritage in the 1913 CNoR Roundhouse will bring social, economic & cultural benefits to our community as people are interested in railroad history & travel North America looking for it. Connections we have made over the years working on the Hanna Roundhouse has shown this to be true.
À propos de ce lieu
The Canadian Northern Railway came through eastern Alberta in 1912. D.B Hanna, Vice President of CNoR chose the spot & designated it a Divisional Point for his railroad company. Construction of the 10 bay roundhouse began & was completed in 1913. It was said, a divisional point would ensure the growth of this community. When constructed, there were only 2 areas which had a roundhouse & a turntable, Edmonton & Hanna!
The roundhouse was built to provide everything a worker would need to do work on the steam locomotives & they didn't scrimp on anything. The same was with the Train Station built at the same time.
Hanna was 1/2 way between Saskatoon, SK & Calgary, AB & serviced locomotives 24 hours/day with over 60 men crews of all professions. At one time, the Hanna Railyard held 14 side tracks for trains passing through, switching cars, servicing, etc.
Hanna has one of the last completely original roundhouses, surviving because it was reused by an agriculture manufacturing company & auction marts. Most roundhouses, once closed, had the roof removed for liability purposes. Hanna's remains, but needs repairs.
The town of Hanna was built around the railroad. Restaurants, hotels, businesses were built to support the workers as they traveled through Hanna ; hospitals & schools came shortly after to support families. The railroad was a dangerous job where many lost lives in accidents. This may have brought the workers closer, as railroaders say it was a « way of life », and one they thoroughly enjoyed. Although labor intensive, there was none like it!
This roundhouse in Hanna needs to be preserved, restored to ensure the railroad era so important in settling Western Canada, is not forgotten.
Pourquoi donner?
Donations to the Hanna Roundhouse will be used to repair the leaky roundhouse roof, which will allow us to share the roundhouse & railroad history at roundhouse events.
Stopping further deterioration of the wooden roof covered with felt, tar & gravel has become a priority. This 19,000 ft2 flat roof, has roof vents where the steam from the locomotives could escape & ventilation for the workers. A transom was added when the roof was raised.in 1948 which added more light.
The exterior cover has deteriorated such that the roof leaks the length of the building in areas & we'd like to keep it from expanding. The open air ventilation allows it to dry but it is showing its wear & leaking is worsening.
We have decided to focus on the Great Hall for this project (9,500 ft2) which is estimated to cost about $75,000. The HRS is also fundraising outside this initiative so whatever is donated will be put towards this roof repair in combination with anything raised by HRS.
Please help us save this 1913 Canadian Northern Railway Roundhouse in Hanna, Alberta. It is truly a gem to be preserved for future generations! Thank you!!
Updates