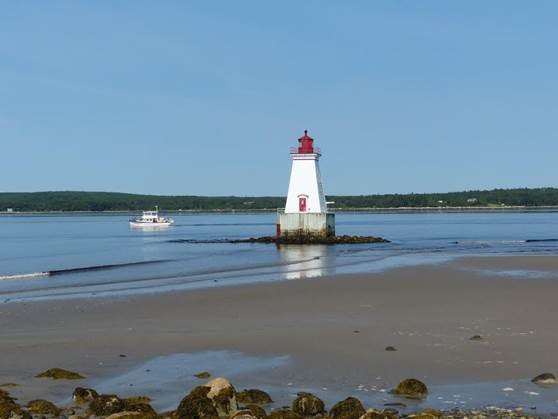 Organization: Sandy Point Community Recreation Group
Province: Nova Scotia
City: Shelburne
Website: sandypointlighthouse.weebly.com
Facebook: https://www.facebook.com/SPLHM
Twitter: @SPlighthouse
About This Project Idea
SANDY POINT LIGHTHOUSE COMMUNITY CENTER
The Sandy Point Lighthouse and Community Park have been a key part of the community of Sandy Point for many decades. The lighthouse was originally built in 1873, and rebuilt after a fire in 1903 in its current location. Throughout its history, the lighthouse has been a landmark that tied together a community and saved many lives from the perils that sailors could unknowingly face as they entered Shelburne Harbour.
When the lighthouse was built, everything was run by lighthouse keepers.  Norm Butler, Edward Goodwin, James Stephens, Ralph Butler and Lawrence Holmes were some of the many lighthouse keepers for Sandy Point Lighthouse, with the last keeper being Robert Bush from 1953-1984. Robert Bush was appointed lighthouse keeper in 1953 after his father-in-law served for 32 years. The light keeper's job was to row out to turn the light on at night and off in the morning, when the fog horn would sound they were responsible for turning it off.
Though the lighthouse is now run electronically, its history lives on in the hearts and memories of many locals. By participating in this crowdfunding project, you as a lighthouse-conscious citizen will be able to provide the Sandy Point Lighthouse with the tools and funding they need to continue the lasting legacy the lighthouse brings to the community, and leave their mark on history.
The lighthouse and its park are in constant need of repairs and upgrades as maritime weather and the saltiness of the sea take a toll on the present infrastructure. By reaching our goal, we will be able to provide the lighthouse with the repairs it deserves.
Missing or invalid Flickr ID
Updates