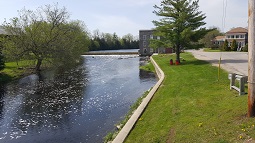 Organization: Spencerville Mill Foundation
Province: ON
City: Spencerville
Website: http://www.spencervillemill.ca
Facebook: https://www.facebook.com/TheSpencervilleMill/
Twitter: @spencervillemil
About This Project Idea
206 years make a big difference in a place. Wilderness and an untamed river greeted United Empire Loyalist Peleg Spencer, one of the first visitors to this place. What happened between then and now?
Our project is to create an inviting park space at the entrance to the village of Spencerville for both locals and visitors to relax, enjoy the natural beauty of the South Nation River and appreciate how a village came into existence.  The park is a place of historical importance due to its setting beside the South Nation River and the Spencerville Mill & Museum, the last remaining grist mill on the river. The original saw mill on this site was the genesis of the community.
The project plan includes enhancing the park with gardens, benches, picnic tables, wheel chair accessible pathways, bike racks, recycling bins, a pergola for sun shelter, historical panels, an information kiosk and map of village businesses and points of interest.
Our project will be a welcoming center for our village. It will improve the vitality of the site, increase visitation to the village and the historic Mill, and engage people of all ages.
Community Impact
Just as curb appeal and an attractive front entrance help to sell a house, so a people-friendly green space offering local information should greatly strengthenour village's welcome to visitors and prospective home buyers.
Many people travelling Highway 416 between Ottawa and Highway 401 stop in Spencerville for fuel and a stretch. The Riverside Park will be an inviting place for such travelers to relax and refresh.  Nearby businesses will benefit from those purchasing refreshments to enjoy at the park. Residents, cyclists, young people and artists who frequent the area will enjoy the improved seating and amenities.
An Information Kiosk will feature coming events as well as orient residents and visitors by providing a map of the village highlighting the businesses and services available in our community.  We wish to encourage visitors to explore the businesses and attractions beyond the center of the village including arts and crafts studios, churches and local farms. The inclusion of interpretive panels outlining the significance of the South Nation River in the development and prosperity of the community will be of interest to both residents and visitors.
About this place
In 1811 when Peleg Spencer made his way north from the St. Lawrence River through wilderness he stopped at the Big Creek, later called the South Nation River. There he saw the potential to build a wooden dam and sawmill to serve the needs of settlers in the backwoods of Edwardsburgh Township. His vision led to a series of mills and ultimately the development of a rural hub, a village that by the 1930s boasted its own doctor, dentist, pharmacy, several blacksmiths, general stores, churches, schools, two hotels and even an indoor arena.
The present day stone grist mill, the last remaining on the South Nation River, operated from 1864 till 1972. Now the Spencerville Mill serves as a museum and cultural landmark. People stop to enjoy the natural beauty of the river, its birdlife, and water flowing over the rebuilt dam.  Do they wonder about how this place came to exist? Do they give a thought to the people who carved a village out of wilderness and created the industries that made it possible?
Let us use this space to tell the story of how a river and early saw mills set the seed for the development of a thriving community.
Why Give?
By donating to our project you are helping to create an attractive public space which contributes to a vibrant community. You can be part of this process.
A vibrant community attracts visitors and new residents thereby supporting local businesses, creating business opportunities and fostering economic growth. Your donation can help to facilitate a prosperous future for the community and this treasured heritage site.
1) Prize money would ensure completion of the project as well as enable
A community ribbon cutting celebration.
Outreach to kayaking/canoe groups, geo-cachers, hikers, and cyclists . These groups could be invited as part of the ribbon cutting ceremony or we could plan a separate event.
Creation of the Information Kiosk with  interactive capacity – i.e., a more interesting and exciting Kiosk for kids and adults.
Development of Exhibit about local flora, fauna, wildlife (turtles etc.) – especially birds … outreach to birders.
Promotion of the new Riverside Park in Tourism Guides and/or Visitor Guides – print and online formats in a broad local area. Leeds-Grenville, Lanark, Ottawa and area.
Photography of new Park for postings.
Development and implementation of a Social Media strategy and marketing re the newly improved Riverside Park.
2)  Extra money raised during the competition would fund another phase of the project:
Creation of a kid friendly zone with small play structure.  Approximate cost $8000 -$10,000.
Installation of  6 solar lamp posts $3000.
Small splash pad including all necessary permits and plumbing.  As the estimated cost is $100,000 we would use extra money raised during the competition to jump start a funding campaign for this next project.
Updates