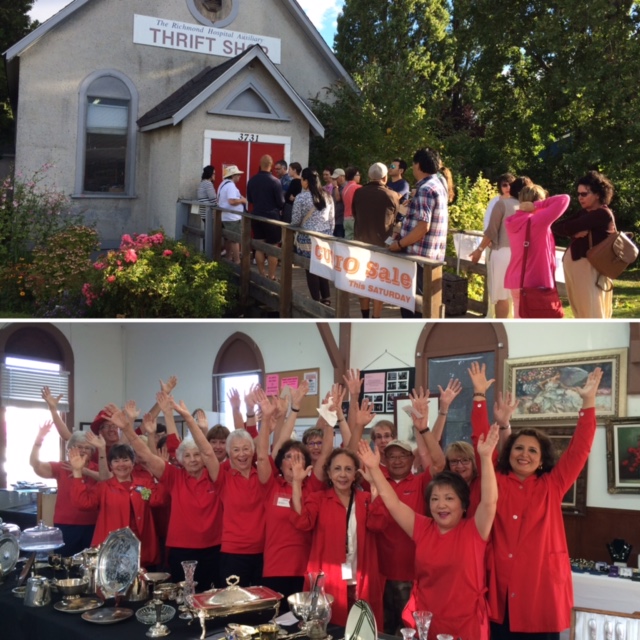 Organization: Richmond Hospital/Healthcare Auxiliary - Thrift Shop
Province: BC
City: Steveston
Website: http://richmondhospitalhealthcareauxiliary.ca/
Facebook: https://www.facebook.com/RichmondHospitalThriftShop/
Twitter: @thriftshop1976
About This Project Idea
It's a rainy day in Steveston, BC, but that doesn't stop the many community bargain hunters from stepping into the Richmond Hospital/Healthcare Auxiliary Thrift Shop for a browse through an amazing inventory of donated goods.  Run entirely by over 100 volunteers, the shop sits in a beautiful heritage building which was formerly a Methodist Church, built in 1894.
Recently purchased by the Auxiliary, the volunteers were well aware of the daunting task ahead of them…major renovations required in order to ensure the iconic structure, a well recognized and beloved landmark in the Steveston village, continued to stand distinct and proud. Too often we witness the sad, but often inevitable loss of our connection to the past when time and few resources claim a community's heritage.  The Auxiliary are determined to follow through on creating the link between the past, and the present by renovating for the future.
Community Impact
The Richmond Hospital Auxiliary Thrift Shop plays an important role in the Steveston community.  The site of our Thrift Shop, on Chatham Street, enjoys a prime location in the middle of the village.   It is important that we remain in this location: it is easily accessible by foot, bicycle, bus, or car.  For the Auxiliary, moving was not a viable option.  Our commitment to preserving this iconic building was at the forefront of our decision to purchase our "home".
Our multi-cultural community bridges a gap between the old and the new and includes First Nations peoples, Japanese-Canadians, Asians, Europeans and, of course Canadians, many of whom are not only our customers but also our volunteers.
The Thrift Shop exists to provide support for the comfort and care of patients through the purchase of medical equipment at Richmond Hospital and other community healthcare needs.  In recognition of the many financially struggling families in our community, we offer low cost alternatives that often mean the ability to clothe an entire family for under $25.  Once a year, we also collect warm clothing and donate it to a program for the homeless.
We are proud to be recognized for our contribution to community recycling and reducing our carbon footprint.  It all begins with the donations the public bring to us instead of disposing their unwanted items.  For our customers, buying second-hand clothing and household items eliminates shipping emissions and packaging that would normally go to landfill.  We, in turn, resell and give new life to items while supporting healthcare initiatives.  We also sort and recycle and what we cannot sell to customers, we sell, at a nominal fee, to recycling companies and to other non-profit organizations for use in third world countries. Last year, we diverted 5,201 kilograms to recycling, saving 97 trees, 150,601 litres of water, and 23,302 Kwh of electricity.  Our Thrift Shop Manager, Ursula Van Duin, often comments that "we are the ultimate recyclers—and proud of it"!
About this place
Originally a Methodist Church built in 1894, our shop is the oldest church in Richmond that still sits on its original site. Its architectural style reflects modest early church structures: T-shaped plan, front gable roof and façade and bell tower. Originally constructed with clap-board siding,  by 1953 it was covered in stucco.
The heritage value of the Church is its association among First Nations and Japanese Canadians who worked in the Steveston canning and fishing industries and worshipped here. The building was also historically connected to the United Church through the union of several church groups in 1925.
For several years, the building sat forgotten and empty until an enterprising bicycle shop took up residence.  They too moved on and the time was right for the Richmond Hospital/Healthcare Auxiliary to move in as a tenant.  For the past 9 years it's been a thriving, volunteer run thrift shop in the heart of the community where 100% of the sales help to support the hospital and several healthcare facilities in Richmond.
Where others might have torn down this old building, the Auxiliary want to restore it, as much as possible, and bring the building back to life for customers, volunteers, villagers, and tourists to enjoy, while continuing to operate it as a thrift shop. WE THINK IT'S WORTH IT.
Why Give?
Take a walk around Steveston Village and stop by the Thrift Shop.  It will only take a few moments to realize how vital your financial support is in ensuring necessary renovations to the 123-year old Church are to its continued life…replacement of the electrical panel, new plumbing and heating, a level floor, replacing the wood siding, new windows, church door, and bell tower will update the building but not take away from its heritage appeal.
But first, we need a new foundation.  The Auxiliary understands the definition of "foundation" to mean many things: the ground upon which something is built, a basis, such as tenet or principle upon which something stands or is supported…especially the whole masonry structure.
Your donation will go towards the very foundation, in all its meanings, of the Shop.  Without a new foundation, the stability of the structure is out of balance and although this initial renovation may not be very exciting, everyone is well aware of how critical it is to start with a "firm foundation".
Where others would have torn down this heritage building, our Auxiliary is committed to restoring it and to do that, WE NEED YOUR HELP.  We can only do that with donations from the public since all the money raised from Thrift Shop sales will continue to go to the Richmond Hospital to meet our commitment to a healthier Richmond community.
Thank you for this opportunity to share our story.
Updates