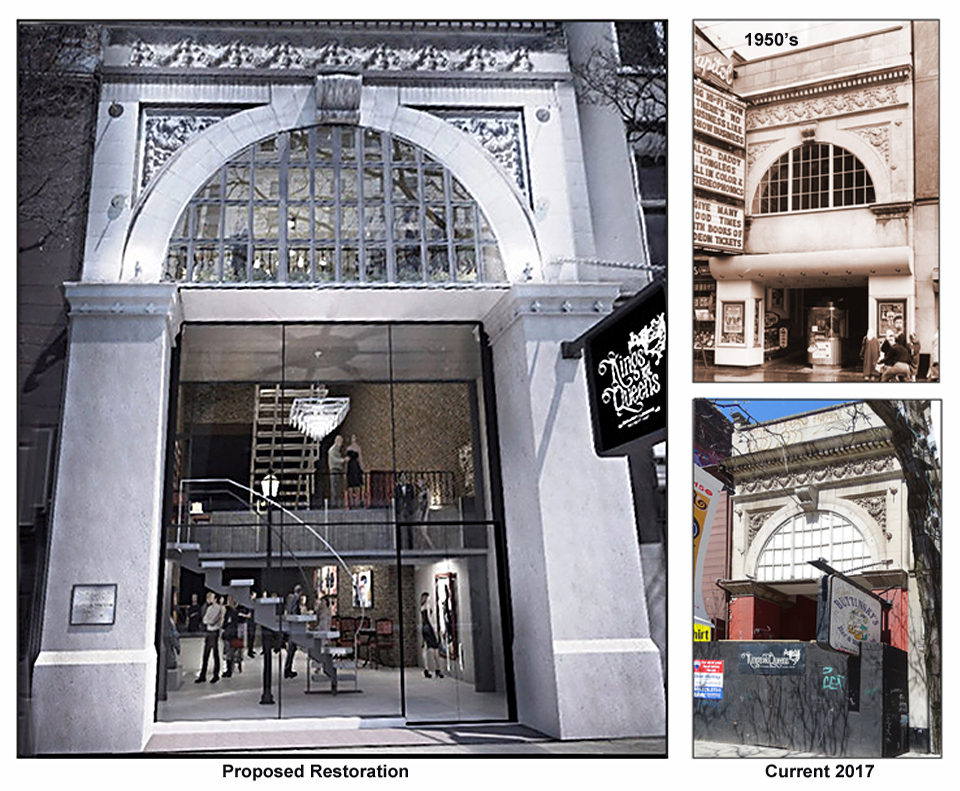 Organization: Heritage Hamilton Foundation
Province: ON
City: Hamilton
Website: http://heritagehamilton.ca/
Facebook: https://www.facebook.com/HHFTheCapitolTheatre/
Twitter: @HamOntHeritage
About This Project Idea
Bring the Grande Dame back to Life!
The once famous Capitol Theatre, needs to be restored! Built in 1917 on King Street East, as the Loew's Theatre, it has been vacant and fallen into disrepair. Its resurgence is greatly needed in this historic heart of the downtown. The auditorium no longer stands but the exterior entrance facade remains and is close to original. This place matters to Hamiltonians and the Heritage Hamilton Foundation is raising funds to properly restore this façade to its former glory. It will become the grand entrance to a new arts and entertainment venue in the remaining three-level lobby of the original theatre.
Community Impact
This project will help to revitalize and upgrade this historic streetscape and surrounding Gore district, and provide incentive for other owners to follow this example of preservation and restoration of commercial buildings. Once restored, heritage buildings become very profitable for owners and the community. It will utilize local trades, materials and heritage professionals in the work to be done, and will open to the public and social and cultural gathering place where none exists in this area of downtown.
The finished façade will recreate a lost historical period and be an aesthetically beautiful reminder of the total landmark that once stood there. It will contribute to community engagement and pride and bring more visitors to the downtown area. Tours will include this site and its history and architecture will be studied and enjoyed.
About this place
Celebrating its 100th anniversary this year, Loew's Theatre, built by Marcus Loew (partner in Metro Goldwyn Meyer) and designed by Thomas W. Lamb, an architect of international fame known for designing the Pantages in Toronto and Radio City Music Hall (1925) in New York, was the grandest of all theatres in Hamilton with over 2200 seats and one of the largest in Canada at the time. Originally a successful vaudeville theatre and later a movie palace, it was a landmark in the city until the 1970's when the auditorium was demolished. Since then, it had served as several restaurants and bars but fell on hard times and became a vacancy on King Street.
In 2015, business owner and operations manager, Sean Hartley, took out a ten-year lease with the goal of converting the three level theatre lobby into a gallery, lounge and events centre accessed through beautifully restored original façade.
This site is an historic landmark integral to the heritage district of Gore Park and to the continuous streetscape on King Street East consisting largely of mid -nineteen and early twentieth century commercial buildings. The theatre's history has been woven into the fabric and memories of Hamiltonian's for over a century. A ghost, known as "the Brown Lady" is said to haunt the premises alleging that she was the murdered wife of one of the theatre's early manager.
Why Give?
A new page in history is turned and the once great theatre will now be brought into the new millennium. Maintaining the old architectural facade and adding a new modern touch inside, the theatre will once again return to its arts and entertainment roots. As donors, you will make possible this transformation – the restoration of major features of the façade. Prize money, if won, will be used for further restoration of the original staircase leading to the third level and the replication of the glass entrance doors. Your support is greatly needed during this four-week campaign. Each of you may vote or donate every day for the next four weeks! Thank you!
Updates