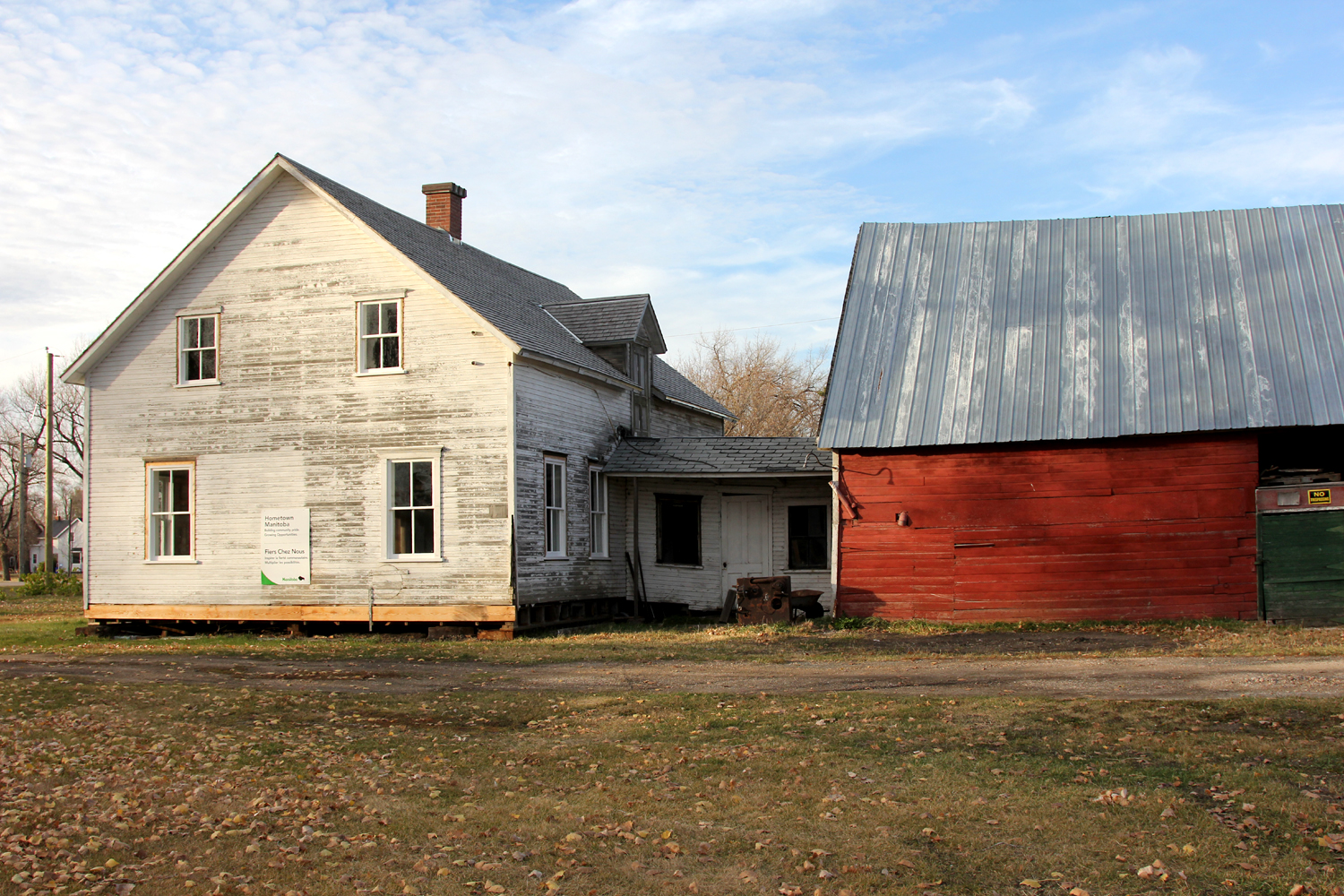 Organization: Neubergthal Heritage Foundation
Province: MB
City: Neubergthal
Website: http://www.neubergthalheritagefoundation.com/
Facebook: https://www.facebook.com/friesenhousebarn/
About This Project Idea
Come closer. If you look carefully you can hear the barn talk. This is a storied barn. The timbers, boards, windows and doors are etched with the stories of the people who have touched this place.
In the year 1876, this barn, known as the Klippenstein barn, was taken apart piece by piece, transported over 100 kilometres, over two rivers and tall grass prairie vastness, to its current location in the village of Neubergthal.  This is one of the two remaining original buildings of this village.  This is the real thing, not a replica. This is an authentic setting, not a museum.
The barn is almost as old as Canada; funding and support is needed for rescue, exterior restoration and interior rehabilitation. It is to be the hub of activities for this national historic site (Neubergthal) and for this community.  Once complete, the barn and the house connected to it, will be a hub of learning and connecting. Stories of early prairie settlement, of Mennonites in western Canada, of land and freedom, of food and sustainability, of inter-cultural interactions and other stories will flow through this experiential learning centre.
Community Impact
These buildings will help us remember who we are and how we got here.
These buildings are near the intersection in our single street village. They will be a flagship and a source of pride for us and our children. Already there are visitors and bus tours in our community in summer. This four season facility will bring more friends, visitors and business here and to our larger community Partnerships with other educational and cultural institutions will increase. Cultural and educational events can happen in authentic settings. New employment opportunities will be created.
About this place
The first group of Mennonite immigrants to western Canada settled east of the Red River, near Steinbach in 1874. Some of the 1875 groups went west of the Red River (West Reserve). The founding families of Neubergthal settled first in the east and then, wanting better farm land, they moved to the West Reserve. The Peter Klippenstein family brought their barn (approx 90' x 30') with them, probably because there was not a tree in sight in any direction from their new land. There was nothing of the present day towns of Altona and Gretna. These barns were the prairie sky line at the time. Along with the regular stories of the prairie and western Canadian Mennonite settlements, stories of freedom and land, this barn tells the unique story of a move from east to west The matching Roman numerals carved into adjoining beams are evidence of dissembling and rebuilding. Many descendants of those original pioneer families still live here, some still speak low German. These are our barns, our stories.
Why Give?
These funds will be used to produce and install siding boards.
Old growth cedar from recycled utility poles will be used. The poles will be squared in a saw mill and a custom designed blade will be used to reproduce the original pattern of the boards on the sides of the barn. The exterior of the barn is to be restored to the original appearance.
If funds are left over after the siding is done, these funds will become part of the larger capital project – stabilizing the hayloft floor, building extra supports for the roof, putting new cedar shingles on the roof, building a new floor and other similar projects.
Updates