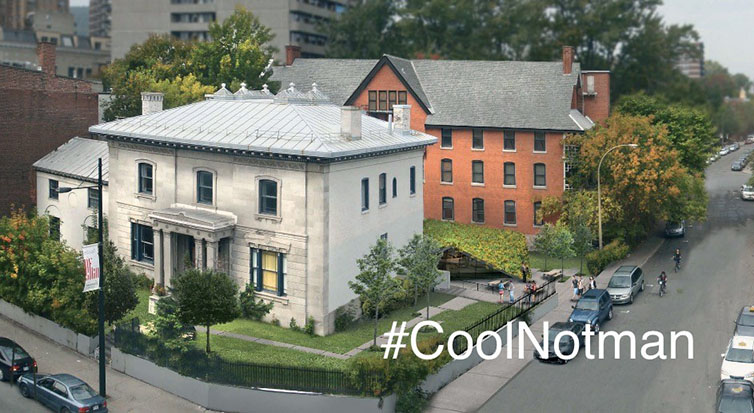 Organization: OSMO Foundation/Notman House
Country: Canada
Province: Quebec
City: Montreal
Website: notman.org
Facebook: https://www.facebook.com/NotmanHouse/
Twitter: @notman
About This Project Idea
"This place is so hot I want to go home and work from my bathtub!" is a comment made by one of our tenants recently. These type of comments are overheard at Notman House every year when the summer heat and humidity rises in Montreal.
Notman House is a non-profit tech hub that houses 21 emerging tech companies, 8 services for them and a public café to support Montreal's entrepreneurs. During the original renovations of the heritage building in 2013, a lot of unforeseen challenges came to light and we had to cut some of the intended renovation expenses, like air conditioning.
"Cet endroit est tellement chaud que j'ai juste envie de rentrer chez moi et de travailler dans mon bain !" est un commentaire fait par un de nos locataires récemment. Ce type de remarques se fait entendre à la Maison Notman chaque année lorsque la chaleur et l'humidité de l'été montréalais se font sentir.
La Maison Notman est un centre technologique à but non lucratif qui abrite 21 sociétés de technologies émergentes, 8 services pour celles-ci et un café public qui soutient les entrepreneurs de Montréal. Au cours des rénovations originales du bâtiment patrimonial en 2013, beaucoup de défis imprévus ont fait surface, forçant la révision du budget de rénovation et laissant de côté la climatisation de l'immeuble.
Community Impact
Having air conditioning in the building would help our entrepreneurs concentrate in the sweltering-heat. During the summer, we've noticed a migration of people from the tech community seek cooler nests to grow their businesses and organize events and conferences. We think Notman House should be a year-long destination, don't you?
We have seen over 70,000 unique visitors and so far 150 companies (former Notman tenants) have gone on to create over 1,200 jobs and raise over $380,000,000 in investment for our country.
Our community (5,000+ strong) is already engaged in this project — everyone is hoping for air conditioning and has been for years!
Avoir l'air conditionné dans le bâtiment aiderait nos entrepreneurs à se concentrer dans la chaleur étouffante. Au cours de l'été, nous avons observé une migration de notre communauté technologique vers des nids plus frais afin de développer leurs entreprises et d'organiser événements et conférences. Nous pensons que la Maison Notman devrait être une destination à longueur d'année, n'est-ce pas?
Nous avons eu plus de 70 000 visiteurs solos jusqu'à présent. Jusqu'à présent, 150 entreprises (anciens locataires de Notman) ont créé plus de 1 200 emplois et ont investi plus de 380 000 000 $ à l'échelle nationale.
Notre communauté (5 000+ dynamique) est déjà engagée dans ce projet – tout le monde espère la climatisation, et ce, depuis des années !
About this place
Notman House is a heritage building located in downtown Montreal, originally built for a Federal Judge and later owned by the renowned William Notman. Following his residency, the house stood abandoned for 20 years until acquired and renovated by OSMO Foundation with the help and support of the Montreal tech startup community.
The vision of Notman House is to produce companies that contribute to the social, economic and cultural fabric of our city while shaping the future of our global society.
La Maison Notman est un bâtiment patrimonial situé au centre-ville de Montréal, construit à l'origine pour un juge fédéral et qui plus tard fut la propriété du célèbre photographe William Notman. Puis, la maison fut abandonnée pendant 20 ans jusqu'à ce qu'elle soit acquise et rénovée par la Fondation OSMO avec l'aide et le soutien de la communauté de start-up de Montréal.
La vision de la Maison Notman est de produire des entreprises qui contribuent au tissu social, économique et culturel de notre ville tout en façonnant l'avenir de notre société mondiale.
Why Give?
Please jump on board to help us raise enough money for air conditioning so we can host more community events and programming in our event spaces. Notman is such a cool place to connect, learn, discover, meet, brainstorm, be inspired, pay it forward… This is where the future starts!
When Notman House becomes too hot to work in, the community is not able to take full advantage of this amazing historical space. We have raised $10,000 towards our goal and your small (or large!) contribution will continue to enable us to give back to Canada's startup ecosystem. Thank you for your support to help #CoolNotman!
S'il vous plaît, embarquez dans le projet et aidez-nous à recueillir suffisamment d'argent pour faire installer la climatisation afin que nous puissions continuer à organiser plus d'événements et de programmes communautaires dans nos espaces événementiels. Notman est un endroit formidable pour connecter, apprendre, découvrir, rencontrer, se remuer les méninges, s'inspirer, donner au suivant… Le futur démarre ici !

Lorsque la Maison Notman devient trop chaude pour y travailler, la communauté ne prend pas avantage de ce magnifique espace historique. Nous avons déjà recueilli 10 000 $ pour atteindre notre objectif et votre petite (ou grande !) contribution continuera à nous permettre de redonner à l'écosystème de start-up canadien. Merci de votre soutien pour nous aider à donner #CoolNotman !
Updates