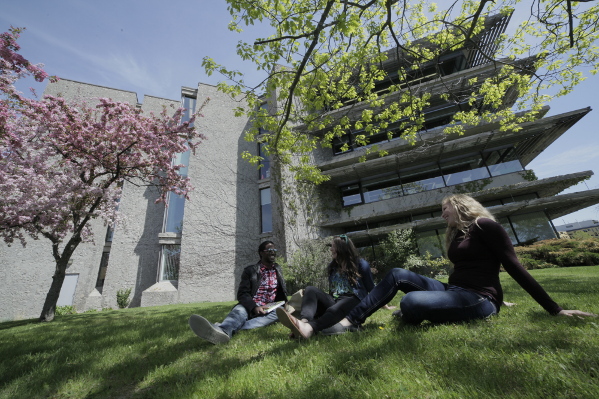 Organization: Trent University
Country: Canada
Province: Ontario
City: Peterborough
Website: www.trentu.ca
Facebook: facebook.com/trentuniversity
Twitter: @TrentUniversity
About This Project Idea
The concrete, the wood-covered trellises, the communal spaces, and the vertical windows provide visual pleasures wherever one turns.
Michael Peterman Peterborough Examiner
At the geographical and intellectual heart of Trent University's original hub, sits Bata Library. Set to celebrate its 50th anniversary in 2019, it is an iconic and unique example of modernist architecture, designed by award-winning Canadian architect Ron Thom. The Library is about to undergo a revitalization to ensure library services respond to the changing needs of students, faculty, and the community; to restore significant heritage elements; and to breathe new life into this building. The project will demonstrate ways to combine a commitment to nationally-important architecture with a contemporary need for digital infrastructure.
The Bata Library remains an impressive architectural achievement, but it was built at a time when environmental responsibility, sustainability, and digital communication played little role in architectural design. During its first fifty years of life, the building has not been renovated, and its basic systems – mechanical electrical, structural – and building envelope need to be upgraded. Design elements of the
building's transformation will promote environmental sustainability, something very important to today's youth in particular.
The transformation will also allow us to restore and enhance this historically-significant building that was designed by one of Canada's most renowned architects. Key heritage attributes such as the exterior trellises and the skylight will be restored. The interior will be opened up significantly, as was the vision of the architect, to enable light to stream into the building, and to permit views of the stunning Otonabee River and the east bank of the campus.
50 for 50: Thom's Bata Library Trellis will specifically address the need for work on the trellises that overlook the Otonabee River, allowing us to bring them to their original state as an integral highlight to this architecturally significant building.
We aim to crowdsource $50,000 in donations to both aid our $250,000 trellis budget and to help celebrate Bata's 50th birthday.
Community Impact
Trent University is a major social, cultural, and economic leader in both Peterborough City and County. The "town meets gown" relationship between the university and the community that houses it is both essential and symbiotic. Trent is one of the region's largest employers and generates an economic impact of nearly $500 million per year. It's students and faculty are major players in arts and cultural endeavours, and the Peterborough campus is an architecturally significant addition to Peterborough heritage. Bata is the geographic and intellectual centre of the University.
An Evaluation of Cultural Heritage Value Significance by Archeological Reasearch Associates Ltd and AREA (Architects Rash Eckler Associates) showed that the design, historical, and contextual value of Bata Library was significant.
It is seen by many as the most successful and beautiful buildings at Trent – buildings designed by Master Architect Ron Thom, a nationally important and recognized figure. In short, it is a Canadian treasure.
The Trent architecture/landscape is a major factor in student recruitment. Maintaining the architectural value of the university buildings is an essential mandate for the university.
About this place
As you walk through Trent's campus, you feel like you've crept through a hole in the universe where some benevolent dictator has mandated that all architecture should be rendered as art.
Adele Weder
Ron Thom and the Allied Arts.
Carved into a forested stone drumlin, perched upon the meandering Otonabee river, Trent University represents a unique marriage of natural landscape and modern architecture. It is also, perhaps, the crown jewel of award-winning Canadian architect, Ron Thom.
The original hub of the Peterborough campus links Bata Library's four storied vertical bastions with the aggregate-rubble castle of Champlain College. Echoing their natural surrounds, these buildings use wood and glass as a forest and water counterpoint to the stone façade of the Thom's architecture.
One of these natural links is the innovative use of trellis that adorns the crowning tiers of Bata Library and the paths and walkways of Champlain College. As much an artist as a modernist architect, Thom sprinkled influences from around the world in his work. The trellises bring a West Coast Asian influence of horizontal lines and cantilevered overhanging beams, while adding to the complexity of relations between landscape, building, and exterior design.
Ron Thom's architecture – his art – is inseparable from Trent's feeling of place. Trent's reputation for blending innovation with tradition, modernity of thought with respect for the past, progress with preservation of nature, is mirrored in Thom's design and integration with the natural landscape.
Those with even a passing association with the University will speak of how ingrained the buildings are with the spirit of the community. Those who attended or worked at Trent will tell of a love for the unique and iconic buildings that housed their day-to-day lives.
As we undergo a transformation of Trent's iconic Bata Library, on the cusp of its 50th year, we aim to continue to welcome our community in a space that fosters imagination and heralds both inventive thought and strength of tradition.
Why Give?
The Bata Library's 50th: Share Your Voice, Share Your Vote initiative will ensure that architecturally significant aspects of the Bata Library – in particular, the unique trellis works – will be preserved during the renovation/transformation process. Your gift will go towards preserving both the heritage design of the Bata Library and the sense of place that is engrained in life at Trent University. You will be bringing the inspiration gained from this architectural marvel to generations of students, faculty, and staff.
The relationship between the built and natural landscapes is of foundational importance to Trent University. Your gift will allow others to experience Ron Thom's architectural legacy for generations to come.
Any funds gained beyond our goal of $50,000 will go towards the overall trellis budget of $250,000.
Updates