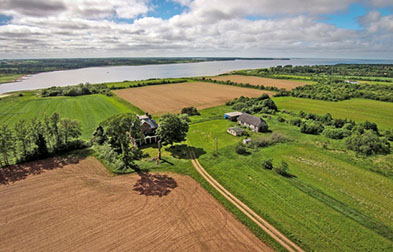 Organisation: Glenaladale Heritage Trust Inc.
Site web: https://glenaladalepei.wordpress.com
Facebook: https://www.facebook.com/GlenaladaleHouse/
Twitter: @GlenaladalePEI
À propos de cette idée de projet
"Glenaladale is a very special place… strong in history, strong in architecture, and strong in landscape…"
(Catherine G. Hennessey, C.M., Heritage Activist)
Glenaladale Heritage Trust is actively pursuing the purchase and preservation of the historic Glenaladale Estate on Tracadie Bay, PEI which was established in 1772. We are seeking funding for Phase 1 which involves moving and renovating the 1899 Tracadie School House located on the property. Funding will be needed to move the school house using traditional methods (horses and logs) as well as renovating the school   into a welcoming Cultural Gateway at the entrance of the Estate.
As Her Honour Dorothy Lewis stated, "Canada has embarked upon an historic year of Celebrating 150 years of nationhood. What better time than right now for us to come together for the cause of history and heritage in Prince Edward Island."
There is no question that one of the largest historical sites on the Island, the Glenaladale Estate, is an endeavour   well worth supporting.
Impact sur la communauté
The stabilization and moving of the 1899 Tracadie school house using traditional methods will be a significant way to bring many community members together. Bringing volunteers from all age groups, skilled members,   including youth from Holland College for a hands on approach, will create a cultural and social experience that will be embedded and appreciated for future generations.
Once Phase 1 is completed, the benefits both culturally and financially will be endless. The benefits will develop and grow bringing PEI heritage to life through tourism, history, traditional farming methods, the arts, environment, nature, recreation and wellness with a particular focus on youth to help instill the importance of awareness and carrying forth our heritage.
À propos de ce lieu
Glenaladale was established in 1772 by Captain John MacDonald, 8th Laird of Glenaladale and 7th Laird of Glenfinnan, Scotland. Captain John is designated as a person of historical significance as is his grandson, the tobacco magnate and educational philanthropist Sir William Christopher MacDonald. The property consists of an 1883 three story brick house, out buildings and 529 acres with 2000 feet of shore line on Tracadie Bay. The Estate was home to Captain John and 3 generations of his family including Sir William C. MacDonald. The Estate stayed in the MacDonald family until 1905 when the MacKinnon family purchased it. The 1899 Tracadie School house was hauled there in the early 70's. Many people living in this area have attended this school before it closed its' doors in 1973. This entire historic site has layers of history. It offers a significant value that has had a profound impact historically speaking and needs to continue for future generations as a continuance of our heritage.
Pourquoi donner?
It is obvious this important project is a huge undertaking but we are realistic and starting with Phase 1 with moving the school house.  The funding will be the vital to kick start this project. Glenaladale cannot be lost.
Updates