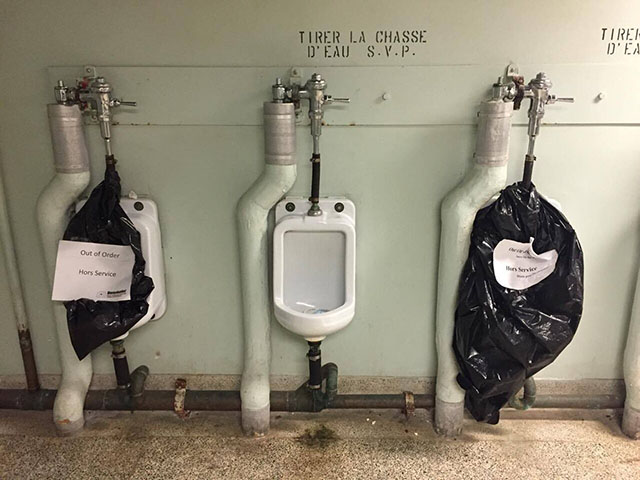 Organisation: Diefenbunker: Canada's Cold War Museum
Site web: www.diefenbunker.ca
Facebook: http://facebook.com/diefenbunker
Twitter: http://twitter.com/diefenbunker
À propos de cette idée de projet
"There are no toilets like our toilets." Lizz Thrasher, Diefenbunker Museum Facilities Manager.
Every detail of this 100,000 square foot underground bunker was carefully designed, including its truly remarkable toilets. That's right – its toilets. Each of the Diefenbunker's historic toilets is mounted on a one-inch, hard rubber pad and has flexible connections to the main system so they can't break or disconnect in case of an explosion (insert potty humour here).
While our toilets give the Bunker character (they a character-defining element that makes us a National Historic Site, after all), they could really use a rest. They are, after all, close to sixty years old! If you've been to the Museum (and we hope you have!), you'll have no doubt noticed the many OUT OF ORDER signs that grace our stall doors. And stalls that are actually open welcome visitors with a kind reminder to hold that flush for a count of 10 – or wait! there's also a few that read DON'T hold for more than 10!
There's no way around it, our system is pooped, which is where you come in. We need your support so that we can build modern, barrier-free washrooms. Then we can preserve our historic washrooms as the important artifacts that they are! Your contribution will help us construct these important facilities so that your next visit to the Diefenbunker is even better.
Impact sur la communauté
The building has changed from top-secret bunker meant to house 535 people for 30 days to bustling community museum that welcomed 75,000 people over 365 days. It's apparent that the existing plumbing infrastructure has become inadequate and currently impacts the Diefenbunker's ability to build on its growing success.
You will help us grow our community museum. Having adequate washroom facilities would enable the Diefenbunker to expand our offerings to larger groups and enable us to increase our range of cultural offerings. As part of the cultural and economic landscape of rural Ottawa, the Diefenbunker hosts a variety of events and programs as a museum. Events include wine and whisky tastings, music performances (our blast tunnel has some amazing acoustics), film screenings, and art openings. Programs include conflict resolution workshops for youth, spy camp, and birthday parties. We also embrace our quirkier side with hula hooping and our "Knuclear Knitters" group.
You will help increase the local rural economy of the friendliest community in Canada (as voted by Expedia). The Diefenbunker draws a substantial number of visitors to the Village of Carp, so we help boost the local economy of businesses, shops and restaurants. We currently draw 75 K visitors to the Carp area, and being able to offer extra programming and events would build on these numbers, thus increasing the benefit to the local community.
Bottom line: You will help keep the Diefenbunker doors open to the public and systems a flushing. The Diefenbunker is a not-for-profit charity who serves to preserve and educate on Canada's Cold War history. It is one of the most culturally significant Cold War historic sites in Canada, if not the world, that is open to the public. The fact that you will help us replace our aging, bomb-proof toilets will have a direct impact on us being able to stay open.
À propos de ce lieu
The Diefenbunker is a four storey, underground bunker that was built at the height of the Cold War – when tensions between the US and Russia were growing and the thought of a nuclear war was very, very real. Built to survive a nuclear attack from mere kilometres away, it would have housed 535 key members of the government and military for up to 30 days. It served as Canadian Forces Station Carp until 1994.
Today, the Diefenbunker is a museum and National Historic Site of Canada, and a fierce reminder of how close we came to a nuclear disaster. It's a symbol of Canada's will to survive, it's a marvel of engineering, and it's Canada's most significant surviving Cold War site.
Pourquoi donner?
If we win, we'll construct new modern, barrier-free, accessible washrooms that would accommodate all visitors. Establishing new washrooms will enable us to decommission and preserve the existing washrooms as part of the heritage function of the Diefenbunker. The Diefenbunker toilets are recognized as a Character Defining Element under our National Historic Site designation. Once taken offline, we will conserve the existing washroom facilities and preserve them as the important artifacts that they are.
The Bunker is fortunate to have enough space that we can continue to tell the story of what life in the Diefenbunker would have been like during a nuclear emergency, and we have the space required for modern washrooms without affecting our heritage or operating functions.
How your funds will be used:
Phase one (2 months) – Permits, building codes and assessments: An engineer will identify the physical and Building Code requirements for the project, as well as the necessary changes that would be need to made to the existing plumbing infrastructure. Permits will be obtained.
Phase two (2 months) – Tendering and Contracting: A tender call for will be put out for the completion of the work and qualified personnel will be hired.
Phase three (8 months): Construction!
Phase four – We open our new thrones as a comfortable space to rest your rump.
This project is expected to cost $85,000.
If we raise extra money (thank you!!!), we will put that funding toward other Bunker improvement projects, such as a new barrier free classroom, updated community meeting rooms, and building projects that will keep the Diefenbunker a vibrant contributor to the local community.
Updates